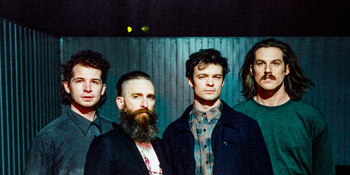 The Kite Machine, Halls Gap Hotel and Better Times
The Kite Machine 'TOUCH / DAGGER' Tour
TBA
Halls Gap Hotel (Halls Gap, VIC)
Saturday, 15 October 2022 8:00 pm
The Kite Machine make a return to the national stage for the first time in 2022 in support of their new dance floor filler 'Your Touch' and upcoming single 'Dagger in the Dark'.
This new tour will be the first time many fans will experience material from the four piece's recent and remarkably eclectic studio output of the last 3 years. "I think people are going to love this tour, We have really worked hard on making it a unique experience for the fans as well as a thrilling rock show…" comments Liam Brennan, bassist for the group.
'Your Touch' borrows from the playbook of synth legends Daft Punk and the group's continued incorporation of synthesised tones to their funk-rock roots makes for a mighty wall of sound on the big stage that is in a word.. irrepressible.
With a songbook filled to the brim with groove-laden bangers, stadium sized singalongs and huge riffs, fans and newcomers alike should find a lot to love about one of Australia's most promising up-and-coming live acts.

The Kite Machine acknowledges Aboriginal and Torres Strait Islander peoples as the First Australians and Traditional Custodians of the lands where we live, learn and work and wish to pay our respects to their Elders past, present and emerging.